updated: 31. März / March 2012 - (new Homepage 11/14)
AMERICAN RAILROADFANS IN SWITZERLAND
HEADQUARTERS: WERNER MEER, HOCHWEIDSTRASSE 3, CH-8802 KILCHBERG (ZÜRICH) FOUNDED 1981
PHONE *41-44-715-3666, FAX *41-44-715-3660, E-MAIL trainmaster@bluewin.ch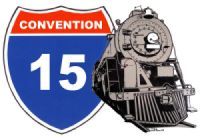 Speed and Power

Direktlink zur 15th Convention - hier klicken / English link - click here
Dreams on Wheels in G Scale (1:29) by Franco Rossi, Switzerland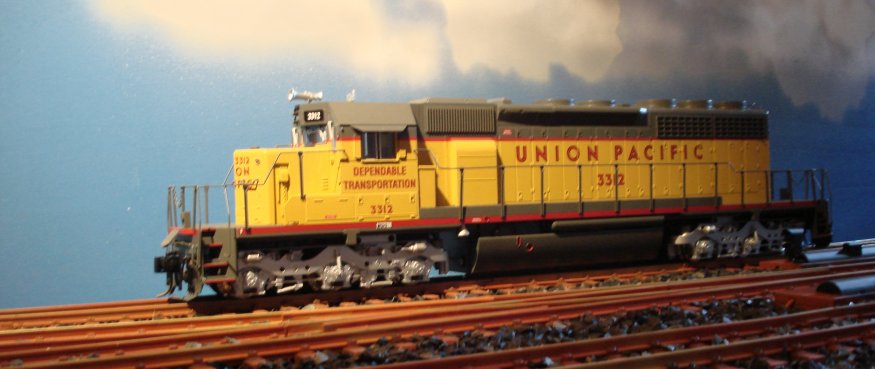 Homelayout 420 x 60 cm (immer schön an der Wand entlang im Masstab 1:29)
This home layout is part of the whole modular layout (12,75 m), which will be presented during the 15th Convention.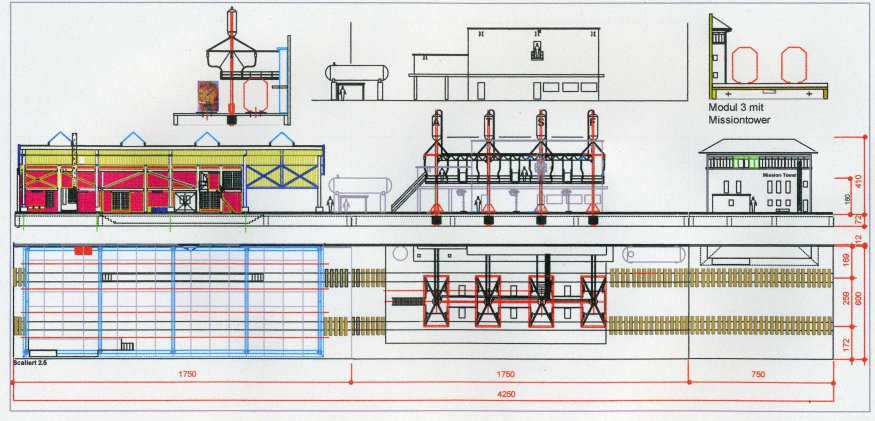 Angaben zur Bauweise der Module:
- Deckblätter in Pappelsperrholz 12 mm, - Rückwände Pappelsprerrholz 2000 x 430 x 12 mm,
- Rahmen und Rippen Tanne 50 x 15 mm, - Rahmen verschraubt und verleimt, - Konstruktionsbehandlung Schwarz gestrichen,
- Modulverbindungen je 2 Flügelmuttern, - auf Längsträgern Tanne 2000 x 48 x 48 mm, - Unterstellböcke Metall,
- Geleise Module 1 - 3 Handverlegt auf Schienenstühlen vernagelt, - Geleise Module 4 - 7 Lebu Flexgeleise, verwittert,
- Schotter schwarzer Basalt Körnung 1,5 bis 3 mm
Technical data for the construction of the modules:
- foundation sheets poplar plywood 12 mm, - rear walls poplar plywood 2000 x 430 x 12 mm,
- frames and ribs fir (evergreen) 50 x 15 mm, - frames screwed and glued, - construction protection painted black,
- module connectors with 2 butterfly nuts, - main girder beams fir 2000 x 48 x 48 mm, - metal jacks (between floor and module),
- tracks module 1 - 3: handlayed and nailed, - tracks module 4 - 7: Lebu flex track, weathered, - ballast: black basalt size 1,5 to 3,0 mm.
Nach der Planung wurde zuerst ein Test-Track (passend für den Big Boy) gebaut.
After planning the modular layout, a test track was built, big enough for a Big Boy.
Rollbockgeleise 200 x 30 cm (Eigenbau)
Rollböcke versenkt
Terrain mit eingefärbten Erdpulverfarben
Gewicht 23 kg
Hintergrund mit Wolken (selbst gemacht) / Backdrop with clouds (custom made)
Beschreibung: Wie macht man einen Hintergrund mit Himmel und Wolken.
1. Erst Wolkenformationen studieren. 2. Dann sehen, was es für Schablonen gibt. 3. Dann die Schablonen selber machen. 4. Erster Sprutz in weiss (glanz). 5. Zweiter Sprutz in hellgrau, aber nur Wolkenuntersichten (matt). 6. Dann Schablone drehen und höher ansetzen. 7. Das ganze nochmals mit weiss (glanz). 8. Dann Schablone wegnehmen und mit weissmatt aus Distanz etwas verwischen. Das Resultat sehen Sie unten.

Dieser Hintergrund bringt schlussendlich auch die Module und die Modelle voll zur Geltung.
Der Mission Tower in einem frühen Baustadium / Mission Tower under construction in an early stage
Der Mission Tower entsteht im Eigenbau und ist erst provisorisch zusammengestellt, nicht ausgerichtete Fensterfronten, noch unverglast und noch ohne Treppe, roh und ohne Dach, um ein Raumgefühl zu bekommen. Grösse: L = 56 cm, H = 32 cm, T = 8 cm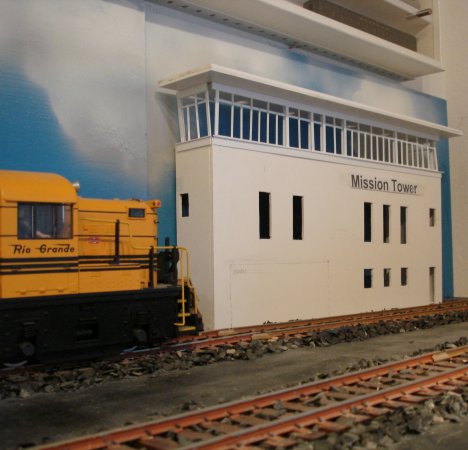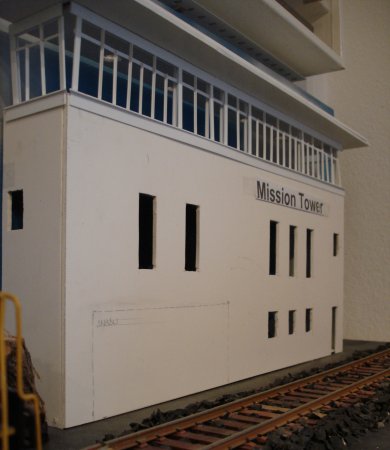 The Mission Tower is completely scratch built and is just temporarily assembled. The windows are not adjusted yet, no window glazing, without stairway and roof, just to get an idea about the volume. Size: length = 56 cm, height = 32 cm, width = 8 cm.
Der Mission Tower ist vollendet / Mission Tower completed

Zukünftiges Projekt eines Bucyrus Erie Crane (Lasercut Technik) / Future project

Planausschnitt vom Bucyrus Crane / Detail drawing of crane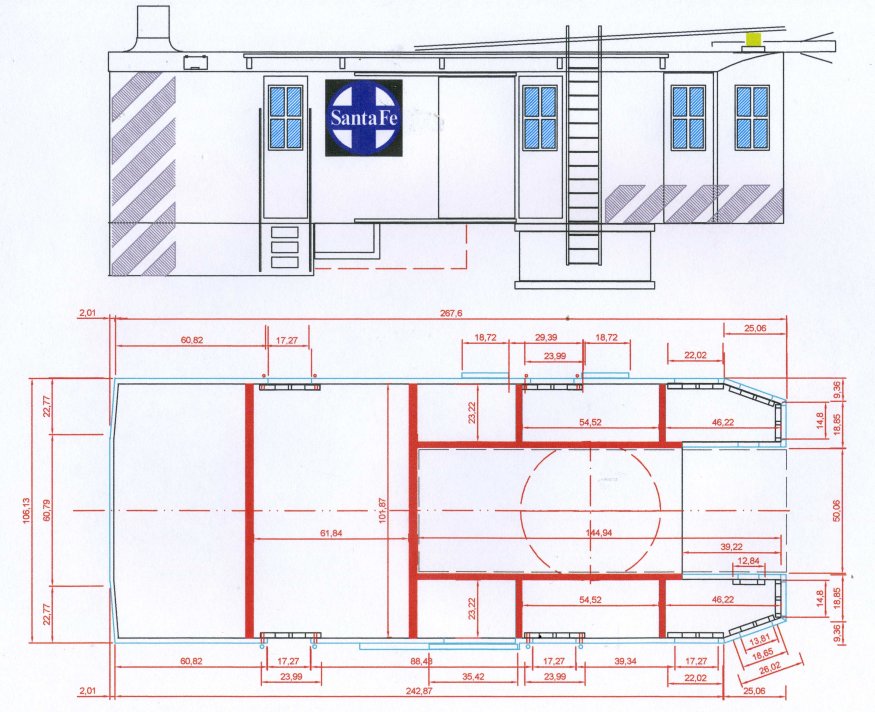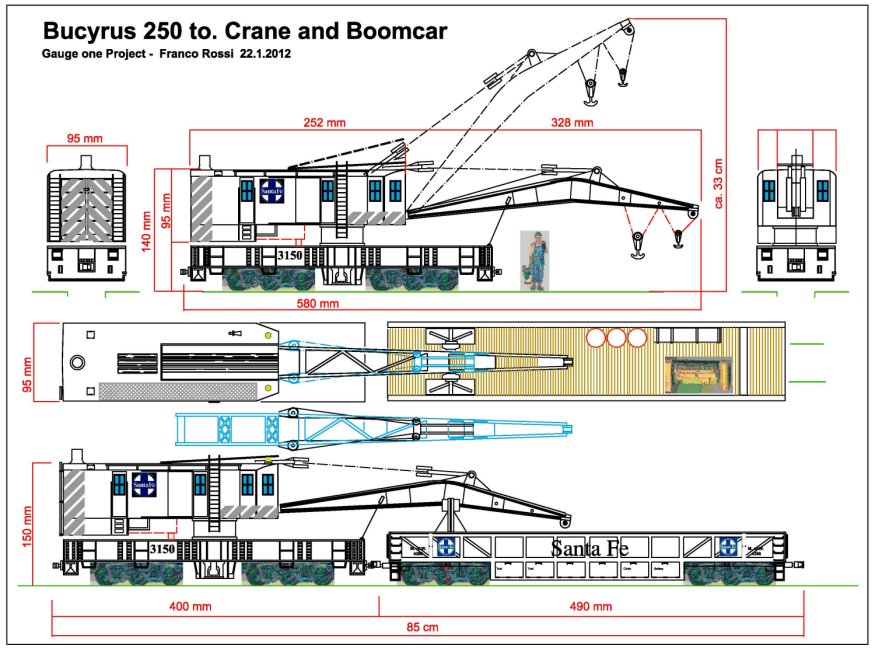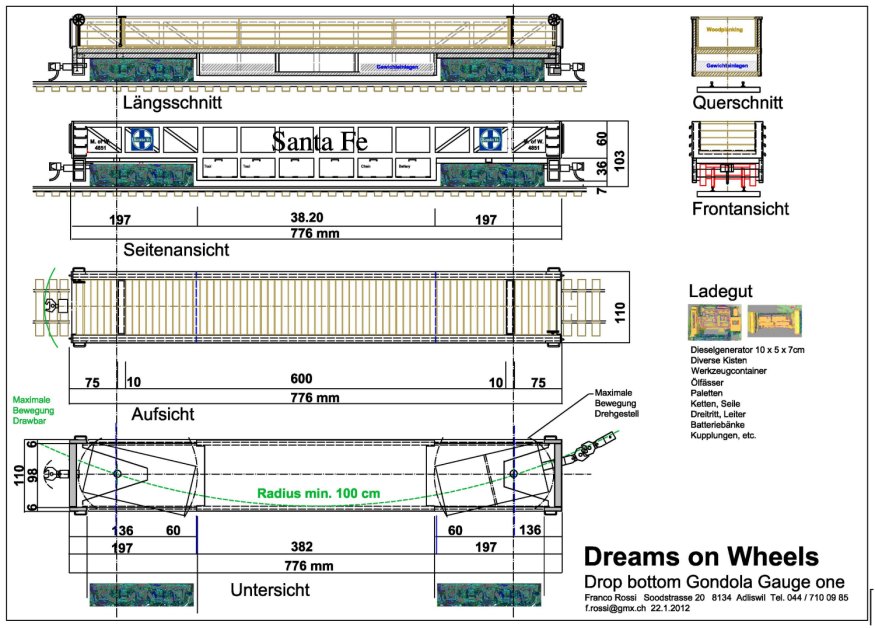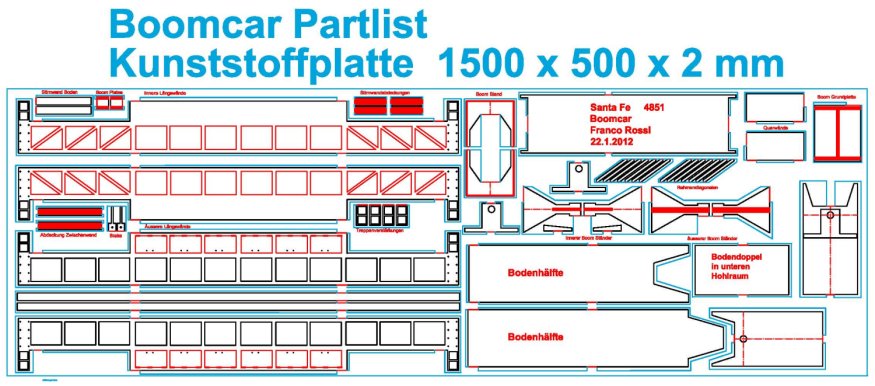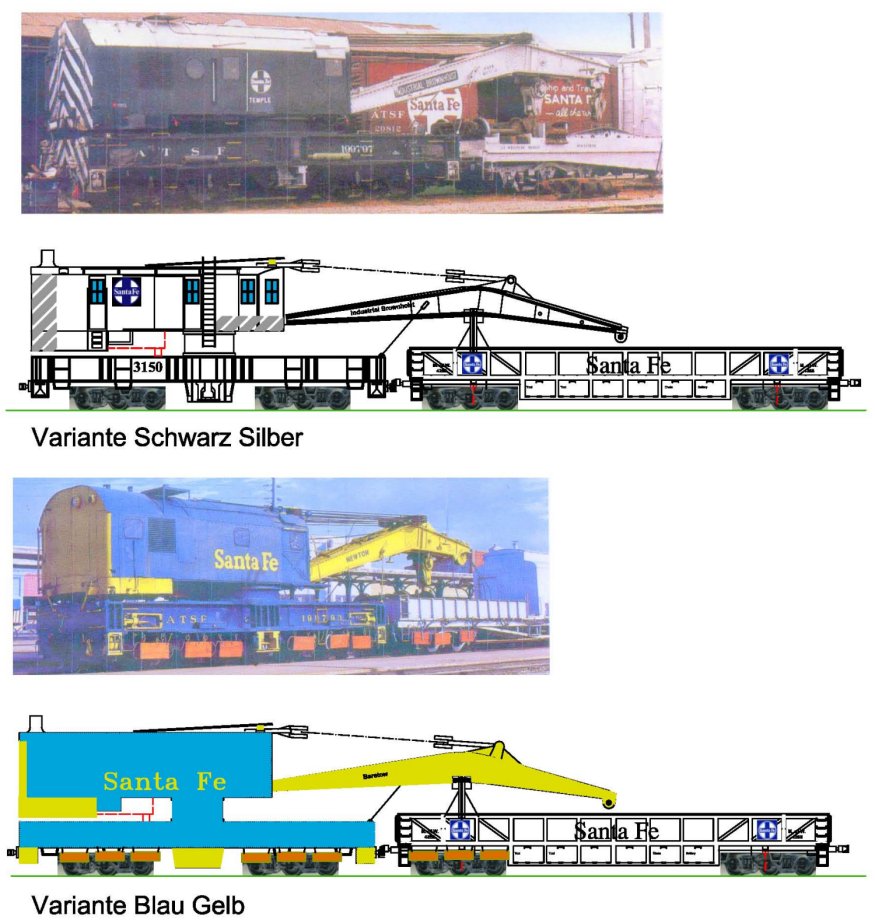 Zurück zur Hauptseite von "Dreams on Wheels" / Go back to "Dreams on Wheels" Main Page - click here
Kontaktadresse: Franco Rossi, Soodstrasse 20, CH-8134 Adliswil, 044-710-0985, f.rossi@gmx.ch
Planung und Berechnung von Anlagen ab HO bis Spur 1 - Planung von Grundlagen für Lasercut Bausätze - günstige Tarife - fragen Sie uns an.
all photos copyright by Franco Rossi
Franco Rossi war der Initiant (1987) vom American Layoutcenter Adliswil (ALCA) und baute dort eine grosse HO-Anlage. Im Jahr 2003 musste das ALCA aus feuerpolizeilichen Gründen geräumt werden. Leider musste auch seine Grossanlage verschrottet werden.
Bis 2002 konnten alle Anlagen während den Conventions der American Railroadfans in Switzerland an den Layouttours besichtigt werden.
Franco Rossi was the Founder (1987) of American Layoutcenter Adliswil (ALCA) and he built a big HO scale layout there. Back in 2003, the ALCA had to be closed because of "Fire Police Restrictions". Too bad, but his layout had to be scrapped as well. Until 2002, during the Conventions of the American Railroadfans in Switzerland, all layouts were open to the public with layout tours.
untenstehend sind die Links von den American Railroadfans / below are the links of the American Railroadfans
untenstehend sind die Links von Trainmaster / below are the links of Trainmaster
Website created by Werner Meer
TRAINMASTER BY WERNER MEER US-RAILROAD-SHOP KILCHBERG
HOCHWEIDSTRASSE 3 CH-8802 KILCHBERG (ZÜRICH) FOUNDED 1977
PHONE *41-44-715-3666, FAX *41-44-715-3660, E-MAIL trainmaster@bluewin.ch