TRAINMASTER BY WERNER MEER US-RAILROAD-SHOP KILCHBERG
HOCHWEIDSTRASSE 3 CH-8802 KILCHBERG (ZÜRICH) SWITZERLAND (founded 1977)
PHONE *41-44-715-3666, FAX *41-44-715-3660, E-MAIL trainmaster@bluewin.ch
Go back to our Website - click here
45 Years Trainmaster - the source for American Model Railroading (1977 - 2022)
added: 5/16 / updated: December 7, 2021
new additions / Neueingänge
HO Scale: Passenger Cars, different roads, single Cars and Sets
All models are in new condition with original boxes unless noted
Amtrak / AT&SF / BN / CA-Zephyr / D&RGW / Pullman / UP (scroll down)
Amtrak
HO Scale: Amtrak Passenger Cars, div. Typen (now on sale)

AT-04: ConCor # 780, Dome/Observation, sFr. 30.-
on sale 40 % discount

AT-05: Rivarossi # 2982, Observation, sFr. 28.- (we have 3 pcs.) -
on sale 40 % discount

AT-07: ConCor # 811, Superliner, Diner, Phase 2, sFr. 30.-
on sale 40 % discount

AT-08: ConCor # 841, Superliner, Lounge / Cafe, Phase 2, sFr. 30.-
on sale 40 % discount
AT-12: Walthers # 6011, Amfleet, Food Service, Phase 2, sFr. 40.-
on sale 30 % discount

AT-13: Walthers # 6013, Amfleet, Food Service, Phase 3, sFr. 40.-
on sale 30 % discount
AT&SF (Santa Fe)
BN (Burlington Northern)
California Zephyr and D&RGW (Rio Grande)
CN (Canadian National)






AA-339, Model Power # 6613, CN, EMD F9A, pow. + 3 CN Passenger Cars, Set sFr. 50.-
D&H (Delaware & Hudson)
GM&O (Gulf Mobile & Ohio)
Milwaukee Road
Northern Pacific

HJF-1854: Walthers # 932-13652, NP, Budd 85' 24-8 Slumber Coach, new, sFr. 49.-
Ontario Northland
Code BF-94: HO Scale: Roco # 63124, ON, Northlander, 4-units, analog, w/original box, sFr. 700.- consignment
now on sale 20 % discount = net sFr. 560.-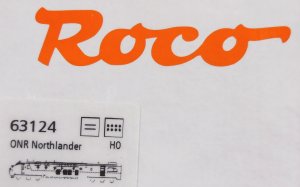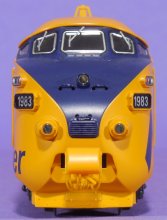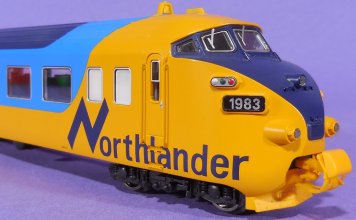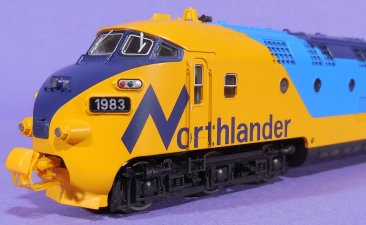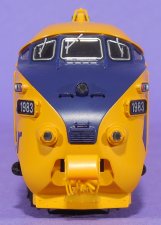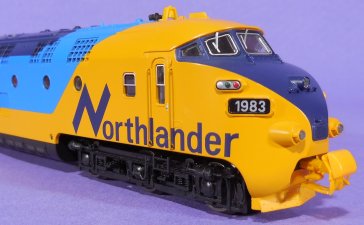 PRR (Pennsylvania RR)

Pullman
Code HJF-1970: HO Scale: MTH # 80-40007, Pullman, HW 5-Car Train, Set = sFr. 548.- consignment
(LED Interior Lights)
each car is pictured from both sides - jeder Wagen ist von beiden Seiten abgebildet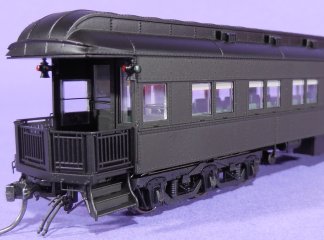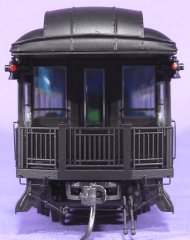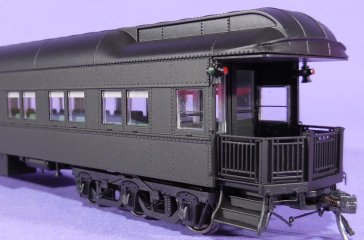 Union Pacific

Any Road / Undecorated
Code UHE-X2: HO Scale: Walthers, Built up Kits, 12-Car Set = sFr. 300.- consignment
on sale 20 % discount
Nice built up wood and metal kits (on request, we can deliver some seats for the interior)


3 x Baggage

1 x Baggage ptd.

1 x RPO

1 x RPO

1 x Combine


3 x Coach

1 x Diner A

1 x Diner B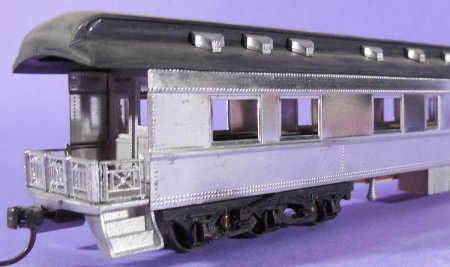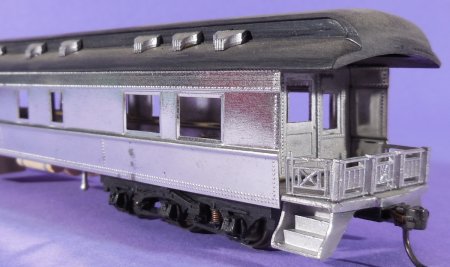 1 x Observation
SOLD OUT - not available anymore / unten - ausverkauft - SOLD OUT
Code SR-02: HO Scale: Milwaukee 7-Car Train (custom made), Set = sFr. 420.- consignment
sold out 11/21
Based on Walthers Cars, but custom painted for correct 1948 Era Paint Scheme. The 48-seat Coaches and the sleepers are having brass sides. All cars with correct Nystrom Trucks made by Shoreham shops. (no Box).


1 x Milwaukee Road Baggage

3 x Milwaukee Road 48-Seat Coach

2 x Milwaukee Road 52-Seat Coach

1 x Milwaukee Road Sleeper
U/P = Un Painted, C/P = Custom Painted, F/P = Factory Painted, P/P = Pro Painted, TA = Tarnished, WEA = Weathered,
NP = Nickel Plated, OR = Old Run, NOB = Not Original Box, not ready = model is at the repair shop!, TBA = to be announced,
res. = reserved (on hold), sold = verkauft (sold out), % = Discount should be deducted from the price,
sFr. = Swiss Francs (CHF), sale = reduced net price, foam = old foam was replaced.
All prices are listed in Swiss Francs sFr. / CHF - We ship world wide!
Zwischenverkauf vorbehalten - Preisänderungen sind jederzeit möglich
Please ask for availability - Prices may change anytime
SOLD OUT - all models are gone - SOLD OUT - click here
We are listing these just for reference as they are not available anymore!
SOLD OUT - alle Modelle sind ausverkauft - SOLD OUT - hier klicken
Auf dieser Seite listen wir verkaufte Modelle als Referenz auf. Diese können nicht mehr beschafft werden, sollen aber einen Überblick von den verschiedenen produzierten Modellen aufzeigen.
Copyright Trainmaster by Werner Meer - 2021