TRAINMASTER BY WERNER MEER US-RAILROAD-SHOP KILCHBERG
HOCHWEIDSTRASSE 3 CH-8802 KILCHBERG (ZÜRICH) SWITZERLAND (founded 1977)
PHONE *41-44-715-3666, FAX *41-44-715-3660, E-MAIL trainmaster@bluewin.ch
Go back to our Website - click here
updated / added: September 27, 2015
HO Scale: Athearn Genesis, UP, EMD SD59MX Diesel Loco (based on SD60M) rebuilt and detailed
by Markus Zöschg, Schlanders, Italy
UP SD59MX
Ausgangsbasis für dieses Modell war eine Athearn Genesis UP SD60M, welche zuerst komplett zerlegt und mittels Alcohol abgelaugt werden musste. Danach wurde der hintere Teil herausgesägt und die flared section mit Evergreenteilen, Cannon Radiators und Athearn Teilen neu gebaut. Auch der runde Fueltank wurde mittels Feilen und Schleifpapier dem Vorbild gerecht eckig gestaltet.



Danach folgten alle notwendigen Detailierungsarbeiten unter Verwendung von Teilen von Detail Associates, Details West, Athearn Genesis (PTC Antenna) und A-Line. Die Lok wurde wie üblich gewaschen, grundiert und dann mit Floquil Railbox Yellow und UP Harbour mist grey lackiert.

Unter Verwendung verschiedener Decalsets von Mictroscale wurde das Modell beschriftet. Nach dem Schutzlack folgte nur eine kleine Schicht Railbrown im Drehgestell und Tankbereich und eine leichte Russverschmutzung um den Exhaust Stack. Das Modell sollte auf Wunsch des Kunden Bernhard Kurke nur den Auslieferungszustand bzw. kurzen Betriebszustand wiedergeben.

(Text by Markus Zöschg).
Ein Bild vom Original der UP SD59MX # 9916 (Photo copyright by PTC)

Vorbild: UP # 9916 at Yermo, CA on 1/20/12 (Photo copyright by David Anderson) LocoPhotos.com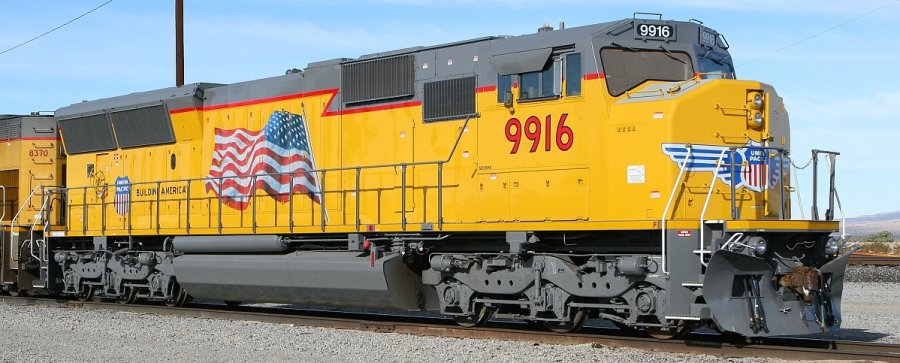 Vorbild: Under Construction in primer paint (Photo copyright by Joe Ferguson) RailroadPictureArchives.NET

The HO Scale Model is at the Paint Shop. First color was UP yellow (Armour Yellow).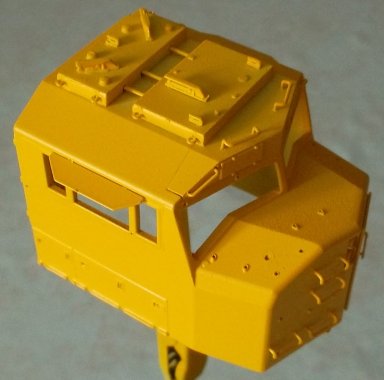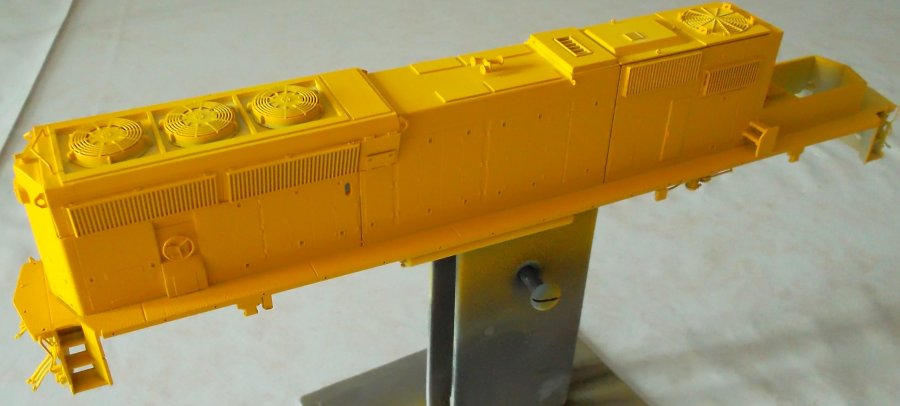 Next was UP gray (Harbor Mist Gray)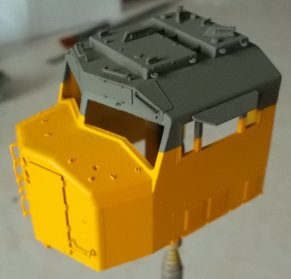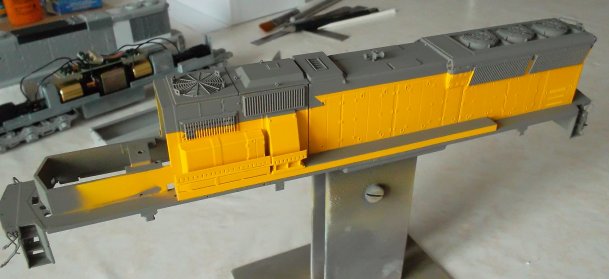 Next Step: Applying the Decals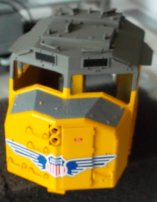 The finished model looks great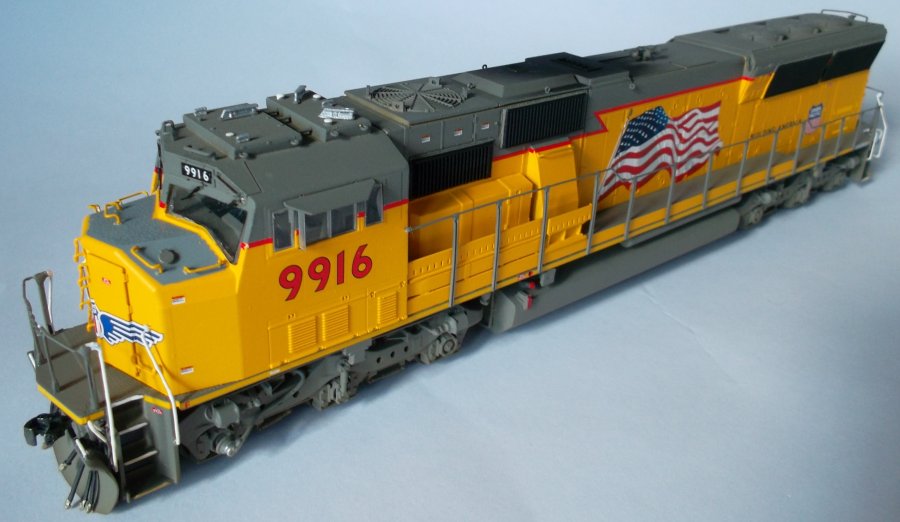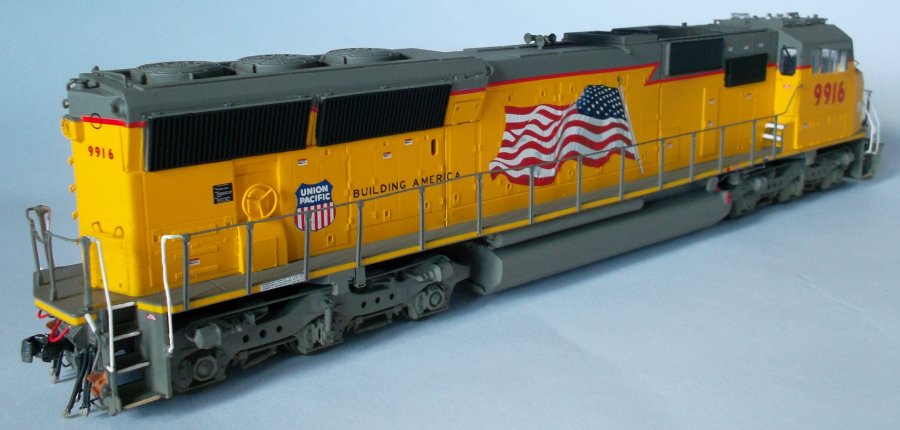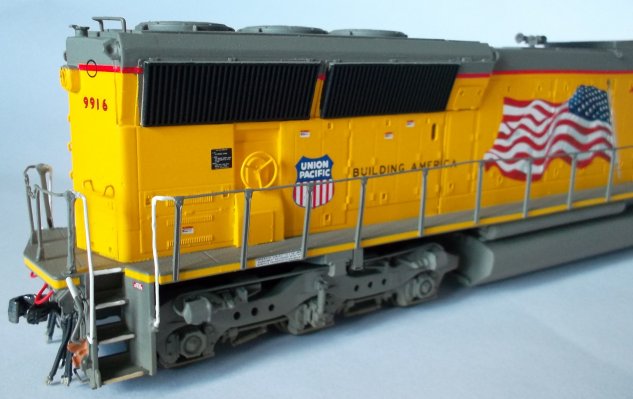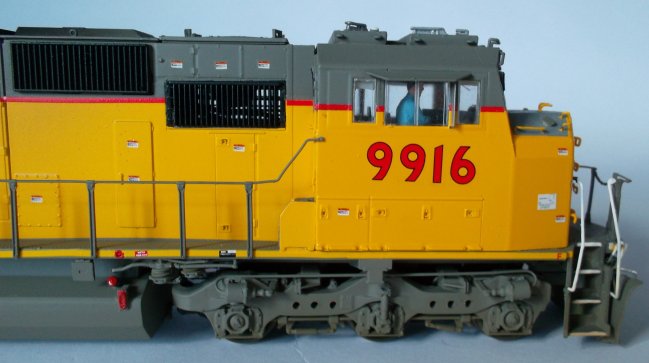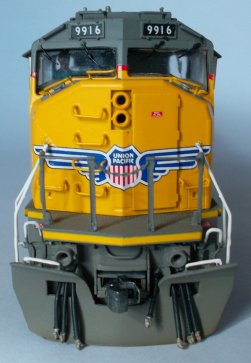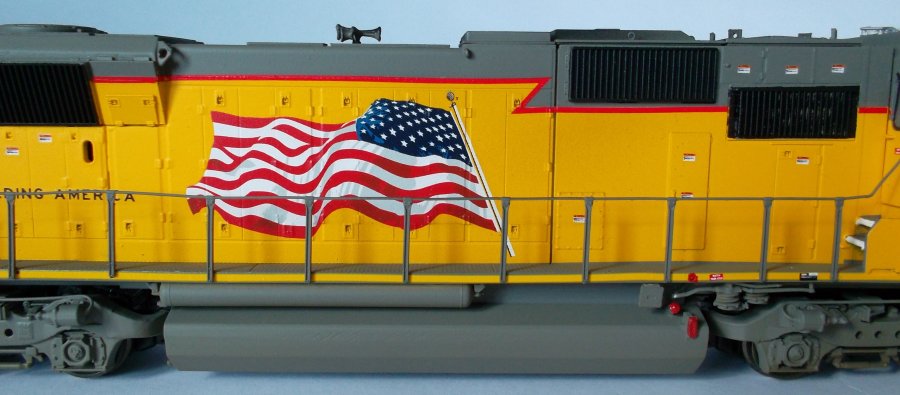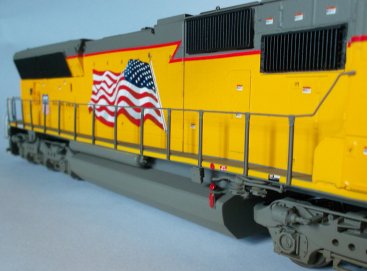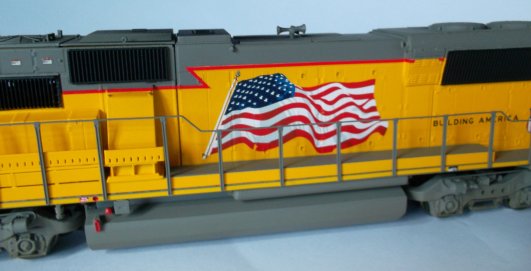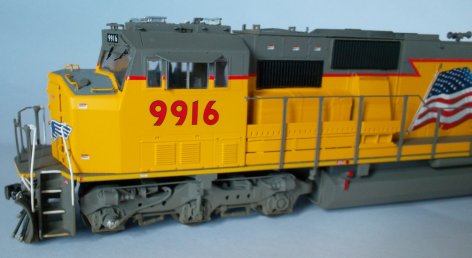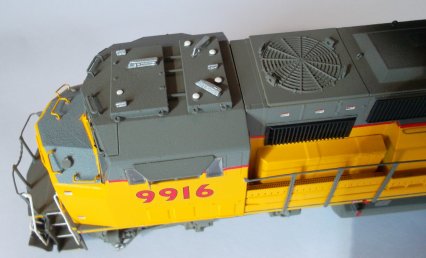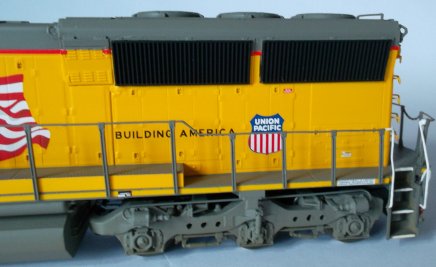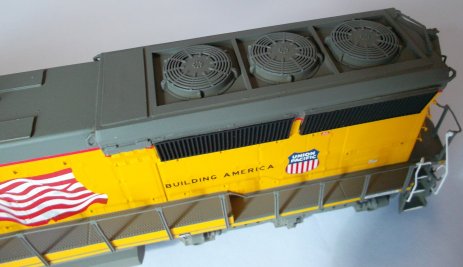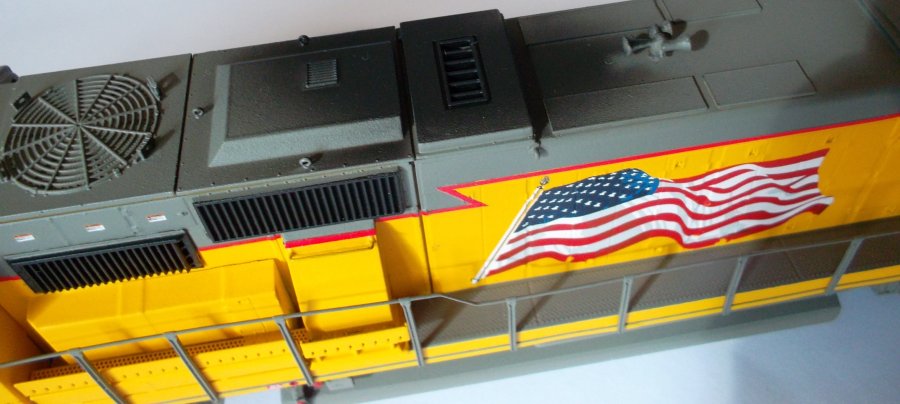 all photos copyright by Markus Zöschg

go back to Customized Models Main page - click here

Bitte beachten: Dieses Modell ist unverkäuflich (Privatsammlung)
Please note: This model is not for sale (private collection)