TRAINMASTER BY WERNER MEER US-RAILROAD-SHOP KILCHBERG
HOCHWEIDSTRASSE 3 CH-8802 KILCHBERG (ZÜRICH) SWITZERLAND (founded 1977)
PHONE *41-44-715-3666, FAX *41-44-715-3660, E-MAIL trainmaster@bluewin.ch
Go back to our Website - click here
updated: August 22, 2011
Cajon Pass Map
by Trains Magazine
by Bill Metzger
(published in August 2011 issue)
copyright by Kalmbach Publishing Co.
Below are 3 photos of the Cajon Pass Map published in the August 2011 issue of Trains Magazine.
The copryright belongs to Kalmbach Publishing Co. and Bill Metzger.
There are 2 corrections: Near Hill 582 the Track Numbers should be: Main 1 (not 2), Main 2 and Main 3.
Wrong location of Stein's Hill: It is not inside the curve of Davis Ranch Road, but on the outside of Main 3 curve just above the Hwy 138 number plate.
On the first photo of the foldout map, we can see the most popular spots of Cajon Pass. Starting at Summit and Hiland, going downhill pass Silverwood (incl. West Summit Island), famous Hill 582, former Tunnel area (Alray), CP Walker, Davis Ranch Road, Mormon Rocks, Stein's Hill on MT-3, Highway 138, Sullivan's Curve and Cajon Station (Junction) with Cleghorn Exit and Cajon Blvd. (old Route 66).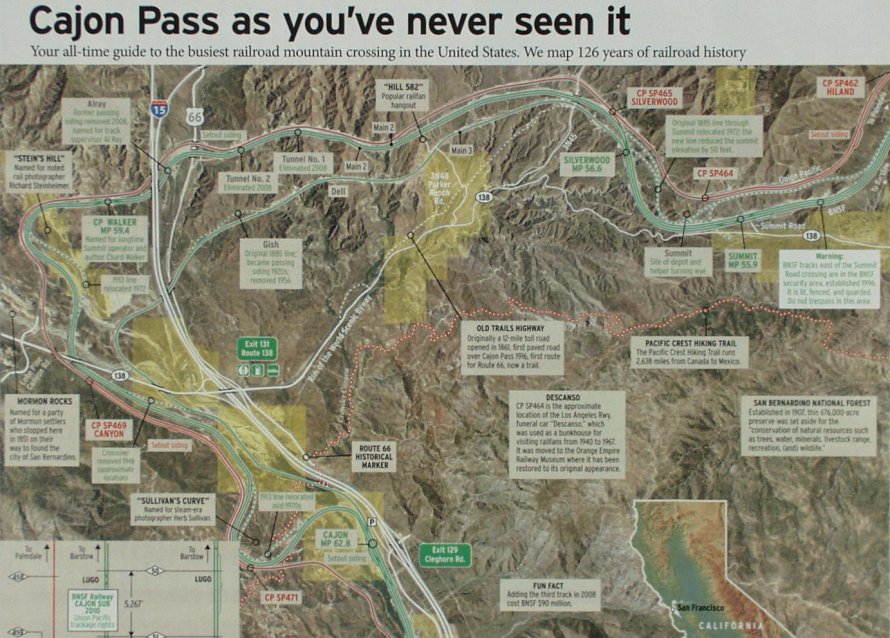 On the second photo we can see the lower Canyon with Swarthout Canyon Road Crossing, Blue Cut and Keenbrook. Here, Cajon Blvd. (Route 66) ends and we have to go on I-15 / I-215 (Exit Kenwood Ave.) until next Exit: Devore Road. Here, Cajon Blvd. (Route 66) continues down to San Bernardino (along the tracks).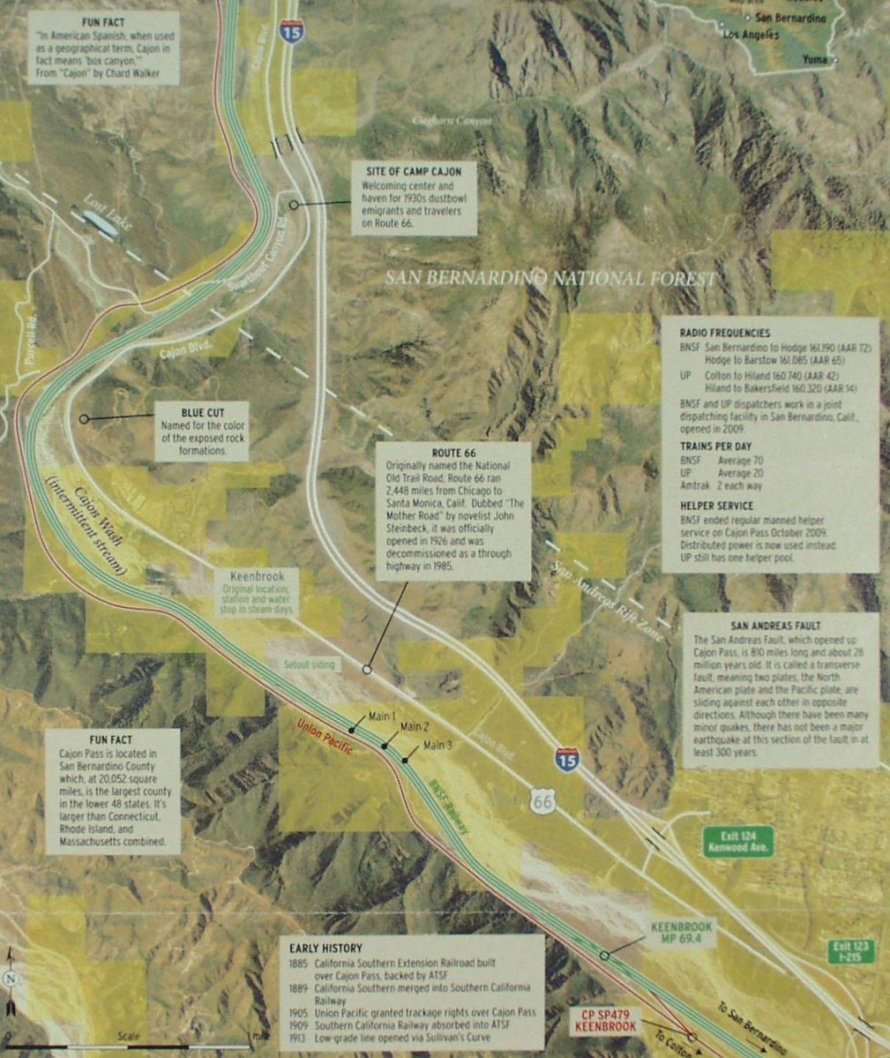 The third photo shows the overview map of the track location from San Bernardino over Cajon to Barstow, Palmdale and Mojave.
Belowe is the grade profile and elevation of the tracks over Cajon Pass.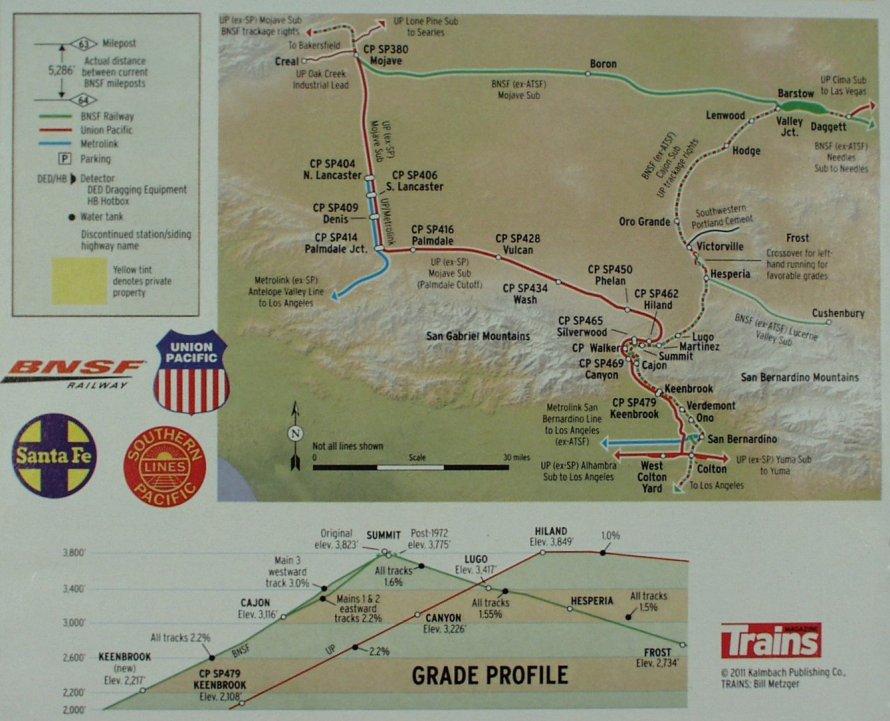 Direct Link to Trains Magazine - click here
8 different and detailed Maps of Cajon Pass with captions (Mile Posts and Location) by Gary G. Gray - click here
New 8/11: Maps "How to find" Hill 582, Sullivan's Curve, Noisy Point by Gary G. Gray - click here
Accurate Map of Cajon Pass with 3rd Main Track by Michael Amrine - click here

Below are photos taken from the air on June 2, 2010. Even there was not a single train in the Pass during our flight, it
still gives an idea about the different locations. We also recommend to see our 8 diff. maps by Gary Gray (see below).
Cajon Pass
Aerial Photos

2010

by Werner Meer
June 2, 2010

Updated: 7/08/2010
WM 6/02/10 Hill 582, BNSF MT-2/-1, UPT - 4033
See all 150 photos - click here
WM 6/02/10 Tunnel 1 shotcrete retaining wall - 4082
Here you find some maps and more infos about Cajon Pass and the former Tunnels:


Go pack to our Cajon Pass Maps and "How to find a location" Page - click here

Go back to Cajon Pass Main Page - click here