The Bay Shore Line
in O Scale by Günther Holzgang
updated: 7. März / March 2018

The sound of a steam whistle is blowing thru the night. A single light beam is getting bigger and brighter. The heavy sound of a steam engine is getting closer. Suddenly, the huge monster is passing with a ear-splitting noise. The engine is slowly disappearing and it is getting quiter, but the sound of the rolling cars are lasting for a while. If somebody did experience such a "show", he will never forget it.
Adventures like these gave the start to build an extensive model railroad layout in O scale.

The idea of

"The Bay Shore Line"

was created !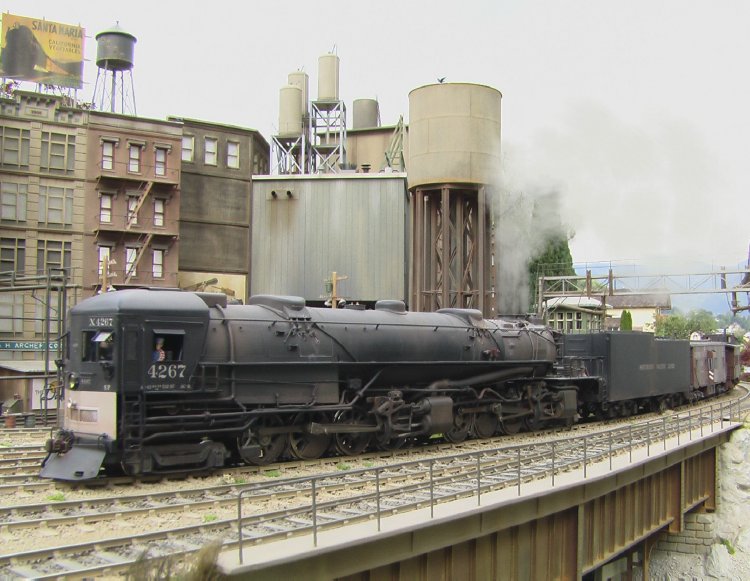 Ein lang gezogener, dumpfer Pfeifton ertönt in der Nacht. Ein einzelner, kräftiger Lichtstrahl wird grösser und heller. Immer näher kommt das schwere Stampfen einer Dampflokomotive. Dann, mit ohrenbetäubendem Lärm rollt das schwarze Ungetüm vorbei. Die Maschine entfernt sich und es wird wieder ruhiger, aber noch lange hört man das gleichmässige Rollen und Rattern vorbeiziehender Wagen. Wer jemals bei einem solchen Schauspiel dabei war, wird es wohl nie vergessen.
Erlebnisse wie diese gaben den Anstoss zum Bau einer umfangreichen Modelleisenbahn-Anlage in Baugrösse 0.


Es entstand "The Bay Shore Line"
How it all started - wie alles angefangen hatte

October 1989 - the Bay Shore Line was born.

At home on my work bench is an older issue of a Railroad Model Craftsman Magazine. Aside of Model Railroader, RMC is also devoted to Model Railroading and Model Building, US style. On the cover is a photo of a wooden drawbridge which is leading over a harbour mouth. In the background is a city of the 30's. This impressive picture gave the go signal to start my O scale layout. Since a long time, I was fascinated by the American Railroad history, especially the 40's with the huge steam locomotives and the first generation diesel locos. California is interesting regarding landscaping and train technology. Here, the Southern Pacific Railroad is at home. Insiders of the US-Railroad Scene know these places for sure:

Donner Pass, Tehachapi Loop, Cajon Pass, Keddie

W

y

e

,

Feather River Canyon, etc.

How about the luxury trains: Daylight, Sunset Limited

or City of San Francisco

. All these famous trains were running in Southern California on these dream routes.

No wonder, are the 40's of the Southern Pacific my standard for this layout !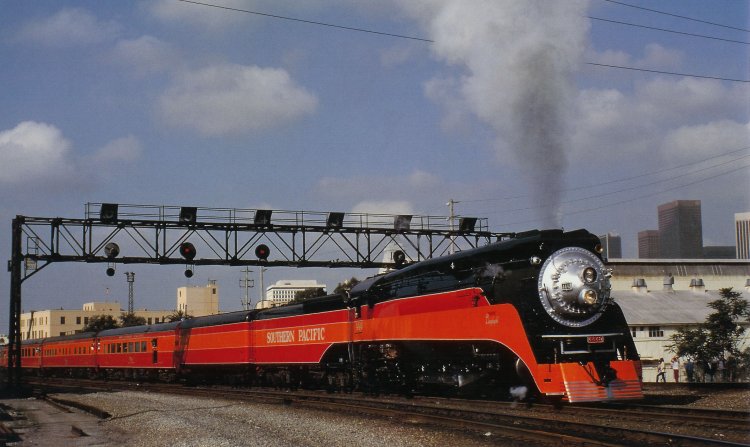 Oktober 1989 - Die Geburtstunde der Bay Shore Line.

Zu Hause auf dem Arbeitstisch liegt eine ältere Ausgabe des Railroad Model Craftsman. Ein Magazin über den US-Modellbau. Auf dem Titelbild zu sehen eine hölzerne Zugbrücke die über eine Hafeneinfahrt führt. Im Hintergrund eine Stadt aus den 30er Jahren. Dieses eindrückliche Bild hat zum Bau einer umfangreichen Modulanlage in Spur 0 geführt. Seit langem schon fasziniert die amerikanische Eisenbahn-Geschichte. Besonders die 40er Jahre mit den gewaltigen Dampf-Lokomotiven und der ersten Generation von Diesel-Loks. Eisenbahntechnisch und landschaftlich interessant ist Kalifornien. Dort zu Hause ist die Southern Pacific Bahngesellschaft. Für Kenner der Eisenbahnszene sicher ein Begriff:

Donner Pass, Tehachapi Loop, Cajon Pass, Keddie

W

y

e

,

Feather River Canyon, etc.

Luxuszüge mit den Namen: Daylight, Sunset Limited

oder City of San Francisco befuhren diese traumhaften

Strecken.

Kein Wunder, sind die 40er Jahre der Southern Pacific, Vorbild für diese Anlage !

copyright by Günther Holzgang